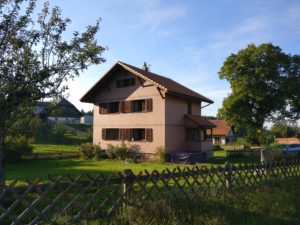 Rural holiday
The Guglerahof guest house is surrounded by fields, forests and streams. The former Stöckli, a lovely pink chalet, was converted into a guesthouse in 2016 and is ideal for families, nature lovers and people who want to retreat for a while and enjoy peace and nature. The chalet is detached. Only a farm with original brown cows and horses is part of the immediate neighbourhood. The perfect place for farm holidays, a holiday with the family, in the open air, far away from the city noise and the many traffic. At the Guglerahof you can fully immerse yourself in nature and recharge your batteries as a family, but also with a few friends or acquaintances. Children can play, dance, run, scream and do somersaults in the garden.
Infrastructure & reservation
The chalet offers several rooms and beds and can be booked through Airbnb. The chalet is equipped with everything necessary for daily use: pots, pans, crockery and cutlery, bed linen, towels etc. There is also a barbecue, a garden table and deckchairs and a beautiful garden available for free use.
Surroundings & activities
From the Guglerahof you can tackle many different hiking trails. In winter you can go ice skating or play ice hockey on the Schwarzsee, visit the ice palaces or enjoy sledging. A visit to the thermal baths in Charmey or a delicious chocolate snack at the Maison Cailler (Nestlé) in Broc are not to be missed, either in winter or in summer. Chocolate always works, doesn't it? If you miss the city air, you can take a short trip to Fribourg and explore the beautiful old town with its many famous fountains. If you like it a little bit more sporty, visit the city during a game of swing golf.
For the more tranquil or clergymen among us, there is a nearby grotto only 3 minutes walk from the beautiful chalet. The Buechechäppeli, a small chapel in the middle of the forest, can be reached by a short walk. From time to time catholic masses are celebrated here completely outside. In the nearer surroundings there are beautiful smaller and larger churches which can also be visited.
And last but not least there is of course good catering. There is no lack of fine restaurants for every taste. We are happy to give you a few tips from our favourite places.
If you have any questions, please contact us at info(at)guglerahof.ch.