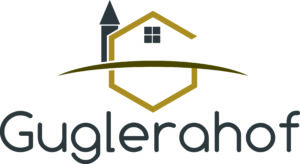 The logo of the Guglerahof bears as a symbol the farmhouse with the characteristic tower. The whole thing is surrounded by a hexagon, which forms a big G and stands for "Guglerahof" (Hof means farm).
The hexagon is often found in nature, among other things, honeycombs also bear this shape. Some characteristics of the bees describe our philosophy very well and therefore the hexagon or honeycomb fits very well into our logo: Bees have an essential ecological meaning for our environment due to their pollination activity. It is also important to us to act in harmony with nature and to manage ecologically. Honey bees form states, i.e. highly social forms of community to share their tasks. Other bees do not do this, but depending on the situation there are forms of community cooperation between different bees, e.g. defence, guard services, division of labour etc.
The Guglerahof aims to become a community project in which many people with a passion in the agricultural sector, realize themselves and contribute to the big picture.